A couple of days ago the much anticipated Mitchell [Smear] Report came out name dropping some pretty famous baseball players. But, after looking through the massive college term paper-like document, one comes to realize that it's a bunch of old news with a smattering of investigative reporting thrown in for good measure.
But does it matter?
These are grown men and women (Marion Jones) we are talking about. It's not like they don't know the possible repercussions of taking steroids; they've made the decision that they have more to gain than lose. But there are other issues at hand here.
For example, what about the records?
Give me a break. The records from old aren't tarnished by any of this. There are tons of differences between Babe Ruth's area and Barry Bond's era. Ruth had to play with gigantic fields, spit balls, a shorter season, balls that were less tightly wound, and obesity. Barry Bonds has many advantages other than his alleged use of steroids (by the way, I say "alleged" for legal reasons only). Barry has smaller fields, balls with bounce, maple bats, a longer season, more teams to dilute talent, and modern training techniques that, even without steroids, are vastly superior to hot dogs and beer.
Comparing Babe Ruth to Barry Bonds is like comparing apples with oranges. Or, better yet, a WWI flying ace with any present day pilot. Baseball is no longer a game or a pastime; it is a business. The players train nearly year-round for this and can focus exclusively on improving themselves. They also have better technology with which to improve their conditioning and their performance.
Records are meant to be broken. But there is something that can still be held onto by baseball's statistical mavens: Babe Ruth outpaced everyone during his era by a bigger margin than Bonds has now. Even without steroids we cannot compare players across eras based solely on raw numbers. But we can compare players across eras based on how well they did in comparison to their contemporaries.
For example, when Babe Ruth hit 60 home runs in 1927 that total was greater than any other American League team. Any other team! When Bonds hit 73 home runs in 2001 Sammy Sosa was only nine behind. If you doubled Bonds' total of 73 it would still not equal the total home runs hit by the power-hungry Mets for that year. If you correct for era the results do not lie; Babe Ruth is a legend and Barry Bonds is merely the best.
But what about the unfair advantage it creates between steroid users and the people they play against?
There are a thousand different ways to gain an advantage over the other guy. And far from proving to me that steroids always work I am of the belief that it hurts a heck of a lot more than it helps most players. Just look at the names mentioned within Mitchell's report. Ever heard of Paxton Crawford? How about Ricky Stone? Assuredly there are many big names contained in this list but there are more that aren't in the list than are in it.
Maybe you could argue that steroids got the bad players further than they otherwise would have gone naturally, but you cannot be sure. The truth is that even if you do take a bevy of performance enhancements you still have to put the work in. Steroids, as I understand it, don't make your muscles grow magically. Steroids help your muscles repair faster after a workout. So, while steroids can be a help, sometimes a big help, the player has to put the work in.
But there's another side to steroid use. Using them can lead to your body breaking down. Basically, the muscles can do more than the body can handle and injuries start to pile up. Plus, steroids don't improve eye hand coordination, baseball instincts, and knowledge about the opposing team's pitcher, which all leads to better performance. I'm not saying that steroids don't provide an edge but I don't think they provide the insurmountable edge that they are made out to give an athlete.
What about the children?
You know they are going to use steroids. Using steroids can give you that extra little push above the competition and there are a bunch of kids whose lives' revolve around sports. So it just makes sense that they are going to use steroids.
What really freaks me out about this is that there is more opposition to kids using steroids than there is to kids snorting coke. It just strikes me as odd, that's all. I've seen friends fall into the mediocrity that pot smoking brings but I've never seen a friend's head explode because they were using HGH. I remember this one kid who was given HGH because he was particularly short; I guess they thought maybe HGH could solve his vertically challenged frame. All it ended up doing was making him the most ripped little person in the area.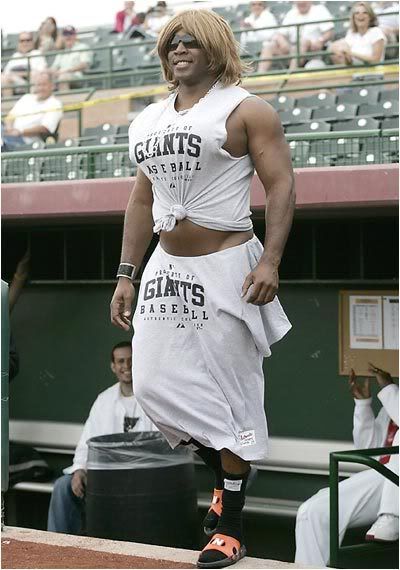 Basically, even if baseball and every other competitive league out there bans steroids, kids are always going to push the limit. I wouldn't let some self-righteous ninny shame you into hating hulked-up baseball player X because his use might push little Johnny into using as well. Hulked-up baseball player X also spends five hours a day working out and I don't see millions of high school baseball players out there at dawn running through the park or going to the gym twice a day. Why would one think that kids are going to only mimic bad behavior?
The only way you're going to get kids to stop using steroids is if there is no money to be made by being an elite athlete. If there's a big enough reward people are always going to take chances; even when they are risking their own lives. As long as there's money to be made by being stronger and faster there will always be people who will take steroids.
So are you saying baseball should allow steroid use?
Yes. I am.
Steroids, in my mind, are just another way to better yourself. It isn't an offense to God to take them and there's an ever increasing amount of supplements to use to improve your performance. To me, steroids are just a souped up version of protein powder and vitamin supplements. Yeah, steroids are going to make the wrong things shrink and grow and they're going to cut down your lifespan by many years, but you know that going in.
Smoking cigarettes cuts down on lifespans without the same performance enhancing affects. So does alcohol and fatty foods. And sugar. But is there a special committee doing research into… oh, wait, never mind.
The opposition to steroids comes from a couple of quarters. Some are purists and don't want change to happen to the game. Others want to protect the health of the athletes and the children. Others want to make sure that there is a level playing field for sporting activities. Many people who oppose steroid use fall into more than one of these categories. But steroids, like all advancements, are going to happen. They aren't an affront to God nor inherently immoral.
Eventually science is going to come through with a substance that delivers steroid-like performance enhancements without the deadly side effects. What then? Shall we continue to oppose these performance enhancing drugs? No, that would be ludicrous.
Instead of succumbing to the Luddite argument that advance is not good we should embrace this change.
Someone needs to be the guinea pigs for this; why not people getting paid millions of dollars a year? Today, Barry Bonds gets to hit a home run every eight at bats at the cost of a gigantic melon head and an early death. But tomorrow we might find a steroid or similar supplement that provides superhero performance without any grotesque side effects. And all because Barry Bonds and his increased hat sized teammates took the first steps.
Would I use steroids?
Heck no! BigT

Tell Your Friends! Bookmark Me!




Take Me To Your Homepage!